Power Pack Units & Systems
Achieve specializes in developing hydraulic systems from enquiry to final commissioning and after-sales service.
Achieve uses only top-quality components.
Achieve hydraulic power packs and hydraulic systems are fully tested and documented before delivery.




Hydraulic Power Packs
Features :


Use single or three phase electric motors
Pressures range up to 400 bar (10,000psi)
Fixed or variable delivery piston, vane pumps or gear
Cater to most fluids such as mineral oil
All valve configurations and operating modes supplied
Good availability of spares and excellent service support

Hydraulic Power Packs and Systems Applications

Special Purpose Machinery manufacturers
Building material manufacturers
University test equipment
Foundries
Maintenance of electrical power lines
Production and maintenance of gas and water pipes and many more...

Achieve offers

Special requirement power packs
Installation and commissioning of new hydraulic systems
Refurbishment of existing hydraulic systems
Efficient, friendly service

General guidelines for Hydraulic Power Packs

All Achieve Hydraulic Power Pack Units are made as per standard or our customers' normally accepted requirements. High performance, compactness and easy maintenance are the main features of these Power Pack Units. The figure below shows the general layout of a Hydraulic Power Unit and the elements indicated are required in every Power Unit for proper functioning of the system.

Engineering Guidelines

These units are of a modular design. For further information, please contact our sales office.;



Commissioning Guidelines

General

• The power units supplied by us have been tested for function and performance. Changes in any form of manner to the power units are not permitted as this would also invalidate any guarantee claims.
• Repairs may only be carried out by the manufacturer or authorized agent. No guarantee will be accepted for commissioning carried out by third parties.

Commissioning

Only fill the pressure fluid via a filter which has the necessary retention rate.
Take into account the direction of rotation arrow when connecting the electric motor.
Start the pump without load and let it displace oil without pressure for a few seconds in order to provide sufficient lubrication.

Commissioning

Never run the pump without oil.
If the pump, after approx 20 seconds, does not displace oil without any bubbles, then the system has to be rechecked.
After the operating valves have been reached, check the pipe connection for leakage and check the operating temperature.

Bleeding

• Before commissioning, the pump housing must be filled with oil



Important Notice

Assembly, maintenance and servicing of the power unit must only be carried out by authorized and trained personnel.
The power unit must be operated within the permissible limits. When carrying out any work on the power unit, switch the system to zero pressure. Unauthorized conversions and modifications which affect the safety and function are not permitted.
Provide protective measures and do not remove any existing protective devices.
Ensure that the fixing bolts are correctly fitted (take into account the prescribed tightening torque).
The general valid safety and accident prevention regulations must be adhered to.
Reservoir nominal size 100 has to be filled with a minimum of 130 liters.



Power Pack Units
Specifications

Tank capacity : 80 liters
Pump : Gear pump 9 lpm, at 1500rpm
Motor : 3 HP, 3-phase
Direction Control Valve : Cetop - 3 mounting, 3 position
Solenoid Valves : Direct acting, puppet type
Operating pressure : 200 bar
Maximum oil pressure : 250 bar
Product Description

• This hydraulic power unit suitable to operate all clamping cylinders is parallel in clamping mode, after reaching the set pressure, which is sensed by a pressure switch, direction control valve shifts to the center position, unloading pump delivery to the tank. In case of pressure drop, the direction control valve operates to increase pressure, to the set pressure.
• In unclamp mode, direction control valve moves to the unloading position, after the set delay.
• The system includes all relevant electrical and mechanical accessories. Pendent with clamp / unclamp push buttons is provided along with the switch.
Specification



Tank capacity : 12.5 liters
Pump : Radial Piston Pump, 5.0 liters/min. at 1450 rpm
Motor : 2hp, 3-phase 1450 rpm
Accumulator : 2.5 liters
Solenoid operated : Direction Control valve
Operating pressure : 150 bar
Maximum oil pressure : 200 bar
Pressure switch : 0-200 bar
Salient Features

Modular construction - There are four separate manifolds,two for the top die and two for the bottom die. A Separate manifold is provided for the die lifters. All these manifolds are mounted on the base manifold, which includes pressure switches, accumulator, pressure relief valve, and check valves the tandem clamping ensures positive clamping.
The pump is put 'ON' and 'OFF' by differential pressure switches that give feedback and stop the press.
Accumulator is fitted to compensate leakage in case of power failure.
Direction control valve allows the operation of either die clamp or die lifters.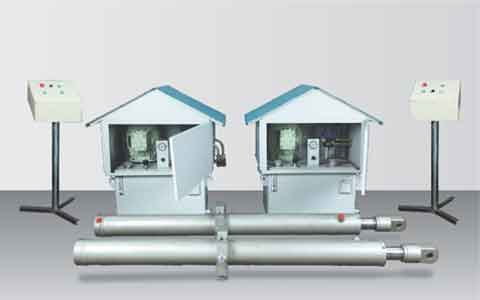 We also undertake the development of special purpose hydraulic systems for unique applications.
One such system has been supplied to a thermal power plant for coal transfer and conveying lines. Using this system, the hopper beneath the wagon tippler can be located / relocated to different positions to feed multiple belt conveyors.
The specialties of this systems are its completely dust-free enclosure and use of flame-proof motors to avoid possibility of fire. The use of high-quality flame-proof motors suitable to work in gas group II C ensures safe working. Also, hydraulic oil is completely protected from dust contamination for which a special dust-free enclosure for the entire system is provided. We have designed manufactured and installed complete systems comprising hydraulic cylinders, power packs, piping and control panel.